You know who you are, you wonderful people who faithfully read my blog, even though I don't update it regularly, who leave lovely comments even though I am not good at replying. I want you to know I really do appreciate the time you take and the effort you make to brighten my day.
So, even though I knew it was coming, I completely missed my blogiversary. I have now been sharing my creations on this little blog for just over a year. It's hard to believe a whole year has passed, it's also hard to believe I stuck with something for a whole year :)
Now I want to hear from you, faithful readers, please tell me what you would like. I have been thinking another giveaway would be good, to celebrate, but I can't decide what it should be. Do you have any suggestions? Maybe you would like to have a look at my felt shop, see if anything there takes your fancy.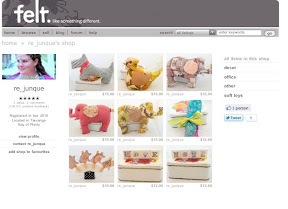 I would also like to organise a little swap sometime, but not sure I would be able to get enough participants. Let me know if you would be interested in doing a little vintage inspiration box swap like
this
or
this.
It would be so much fun, to put together a little box of goodies and also to receive one.
Looking forward to hearing from you :)
- Posted using BlogPress from my iPhone