It's been a busy week, with a landlord inspection to prepare for, a special visitor arrival to prepare for, and today a slightly unwell little princess to take care of. But I have still managed to find time to make/finish a few things.
Lemon Honey Cupcakes - I kind of made up the recipe for these, because I couldn't find a recipe that quite suited what I wanted to make. They are pretty and tasty, I kinda don't want anyone to eat them ;) Little princess was not a fan, lemon is not one of her favourite flavours. But that's ok because I made her lemonade jelly and she was pretty happy with that.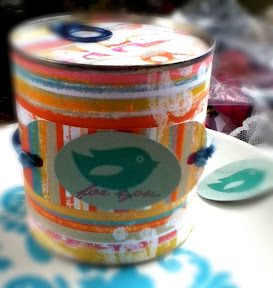 This was our Easter themed project at craft group last week. Others did Easter bunnies on theirs, but I'm not really into bunnies, so I did a little birdie. Inside are a few chocolate Easter eggs, and you have to open the top of the can with the pulltab to get them out. It's a pretty neat project.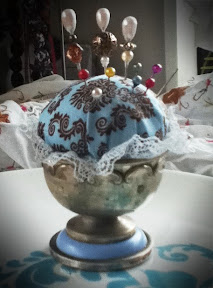 This little pincushion was inspired by
this post
. I've done teacup pincushions before, but I loved how she made pincushions out of other things you wouldn't think of using for that purpose. So I went on a thrifting mission and found this perfect vintage silver engraved little eggcup thing, and knew I had the perfect fabric to go with it. I love how it turned out, but I have a ridiculous amount of pincushions now, and I'm not really sure what to do with them all.
This little flower brooch is a project I've had sitting around for ages, all pinned together and waiting to be sewed up, so I'm glad I finally got around to it.
This has been a work in progress for a couple of months, and I finally finished it in the weekend. It is a late birthday/early mothers day gift for my mum who arrives tonight. I made 2 faux paperbag albums using the video tutorial I posted on here a while ago, then altered a nescafe box to keep them in.
This is what they look like when inside the box, so you can see that they fit just perfectly.
This is an experimental paperbag album I made, and I'm pretty happy with how it turned out. I haven't decided what I'm going to do with it yet, so it's not embellished or anything.
This is it open, so you can see it's made from the little paper bags you get lolly mixtures in from the dairy (50c mixtures back in my day, which would probably be more like $2 mixtures now).
So with our extra special guest staying for a week I don't think I'll be getting a whole lot of crafting done, but next weekend it's craft weekend at Waihi beach again!
- Posted using BlogPress from my iPhone